Robert Adam and Diocletian's Palace in Split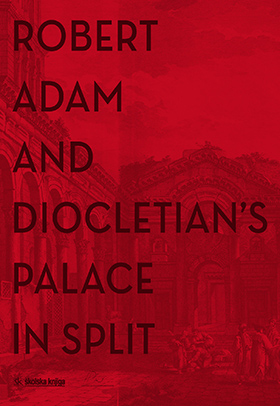 Publishers
Školska knjiga, d.d. – Institut za povijest umjetnosti, Zagreb, 2017.

Academic Editors
Joško Belamarić, Ana Šverko

Peer reviewed by
Iain Gordon Brown

Editor
Miroslava Vučić (Školska knjiga)

Manuscript Editors
Katarina O'Loughlin
Iva Raič Stojanović

Reviewers
Daniela Calciu, Ivo Čović, Robert Ferguson, Irena Kraševac, David McCallam, Goran Nikšić, Katarina O'Loughlin, Daniele Vitale, Josip Vrandečić

Translation
Graham McMaster
Sarah Rengel
Tomislav Tadić

Bibliography and Index
Anita Katulić
Iva Raič Stojanović

Authors
Joško Belamarić, Stephen Caffey, Ian Gordon Brown, Amanda Green, Heather Hyde Minor, Angelo Lorenzi, Krasanka Majer Jurišić, Ivan Mirnik, John A. Pinto, Ante Rendić-Miočević, Frances Sands, Valery Shevschenko, Ana Šverko, Colin Thom, Isabelle Warin, Elke Katharina Wittich, Damir Žižić

Proofreading
Graham McMaster
Katarina O'Loughlin
Iva Raič Stojanović

Design and Layout
Damir Gamulin

Graphic Editor
Danijela Karlica Žilić

Print
Grafički zavod Hrvatske, d.o.o., Zagreb

Material description
608 pp.; illus.

ISBN (IPU): 978-953-7875-38-1; ISBN (ŠK): 978-953-0-60975-4

​* The book can be purchased at Školska knjiga.

-
When, on his Grand Tour, the Scottish architect Robert Adam travelled from Rome to Split in 1757 to study Diocletian's Palace, he expected to find a monumental Roman villa. Instead, he came across an exceptional late antique structure that, in the Middle Ages, had been transformed into a city. Adam turned his study of this monument into an original architectural theory, and, in London in 1764, it was published in one of the most beautiful books of the eighteenth century: Ruins of the Palace of the Emperor Diocletian at Spalatro in Dalmatia.

The lessons Robert Adam grasped in Split also inspired his own architectural projects in England and Scotland influencing in part the "Adam Style", a specific neoclassical style that had a significant impact on European and American architecture. We find the imprint of Diocletian's Palace as ana architectural and urban design model everywhere in Adam's projects, from the scale of the ornamentation (a famous example is his interpretation of the capital from Diocletian's Peristyle) to the application of the specificities of its spatial constructution.

In 2014, a group of scholars gathered in Split to mark the 250th anniversary of the publication of Adam's book, and a series of essays developed out of their discussions. Their texts are illustrated with more than two hundered images, some of which are being published for the first time, from numerous archives and museums, from Sir John Soane's Museum in London to the State Hermitage Museum in Saint Petersburg.

This book shows that the ancient stratum of Diocletian's Palace, this extraordinary multi-layered urban fabris, has not changed notably since Adam's visit to Split. Yet the boo kis more than just the story of Adam and Diocletian's Palace; it is also a guide to the Palace's spaces and monuments, and a witness to its changes and its continuity. All of these we would not have been able to understand, nor experience so well, without Adam's tireless research.

-
Contents

PREFACE

11
Ana Šverko
A Book about the Book about Diocletian's Palace, and about Diocletian's Palace

21
A Gallery of Engravings
From Robert Adam's Ruins of the Palace of the Emperor Diocletian at Spalatro in Dalmatia (London 1764)

INTRODUCTION

111
Iain Gordon Brown
"A Glisk of Infinite Merit":
Split and Spalatro in the Biography and Evaluation of Robert Adam

READING THE PLACE

155
Heather Hyde Minor
Robert Adam as Author

171
Angelo Lorenzi
Adam's Point of View

193
Ana Šverko
"The Views from the Palace Are No Less Beautiful": The Context of Diocletian's Palace in Adam's Spalatro

225
Valery Shevchenko
Charles-Louis Clérisseau, the Main Draughtsman of Adam's Dalmatian Expedition

REPRESENTING THE PAST

285
Joško Belamarić
Robert Adam's Lesson of Split

309
Krasanka Majer Jurišić
Adam's Print of the Western Gate of Diocletian's Palace: A Resource for the Study of Communal Buildings in Split in the Eighteenth Century

325
Ivan Mirnik, Ante Rendić-Miočević
Another Look at the Livorno Edition of Adam's Book on Diocletian's Palace

DIOCLETIAN'S PALACE AND THE ADAM STYLE

357
John A. Pinto
"The Beautiful Spirit of Antiquity": Robert Adam and Diocletian's Palace

379
Frances Sands
Reconstructed and in Ruins:
The Influence of Diocletian's Palace Within the Drawings of Robert Adam

401
Colin Thom
'Spalatro on Thames': How Diocletian's Palace Inspired Robert Adam's Most Audacious Development – the Adelphi

LESSONS OF DIOCLETIAN'S PALACE

429
Amanda Green
Experiential Neoclassicism and the Adam 'Revolution' in English Architecture

451
Stephen Caffey
Imperial Capriccio: The Palace of Diocletian and England's Visual Cultures of Empire

460
Elke Katharina Wittich
Variety, Beauty and Elegance: Details of Diocletian's Palace in Robert Adam's Architectural Decorations

497
Isabelle Warin
Architectural Ornament of Diocletian's Palace in Split in the Work of Louis-François Cassas (1756–1827)

525
Damir Žižić
Diocletian's Palace Today: Photo Essay

553
Index

563
List of Illustrations

575
Bibliography

599
List of Contributors

-
This book has been supported by the funds of the Croatian Science Foundation under the project Grand Tour Dalmatia (7091), the Ministry of Science and Education of the Republic of Croatia, the Croatian Academy of Sciences and Arts, and the City of Split.