Call for Papers
Eugene of Savoy (1663–1736) and Fortress-Towns on the South-Eastern Border of the Habsburg Monarchy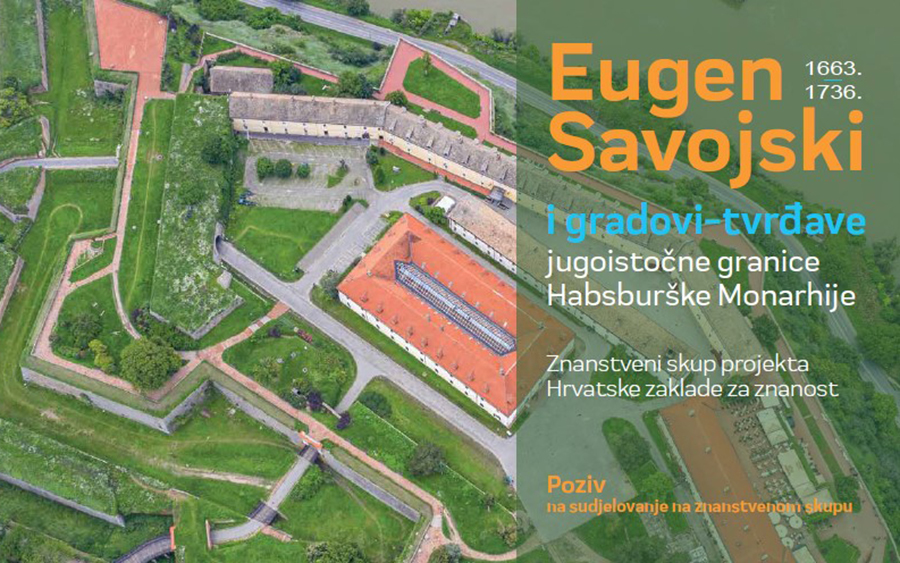 The Institute of Art History is organising the international scientific conference Eugene of Savoy (1663–1736) and Fortress-Towns on the South-Eastern Border of the Habsburg Monarchy. This is the final meeting of the research project of the Croatian Science Foundation that was carried out at the Institute from 2018 to 2023.
>>> CFP <<<
-
Prince Eugene of Savoy (1663–1736), one of the greatest military leaders in history, is also known as a great initiator of construction and an art patron. But while his lavish Baroque residences in Vienna and Austria have long been portrayed in scholarly literature, Eugene of Savoy's role as an organizer of the construction of fortification, residential and religious architecture along the border with the Ottoman Empire is relatively little known among the wider professional public. Prince Eugene gained worldwide fame as a military strategist during the great war of liberation that began in the south-eastern part of the Habsburg Monarchy after the Ottoman defeat at Vienna (1683) and ended with the Peace of Karlowitz (1699). Coming to the head of the Imperial War Council (1703) after the end of the war, he devoted himself to securing the border by fortifying existing and building new fortress-towns. The best engineers were selected to design a modern system of bastion fortifications, and the construction of the urban fabric of the fortresses was also planned from the headquarters in Vienna. Therefore, we meet the same architects as designers or construction managers of public, religious and military buildings in distant cities along the former Austria-Ottoman border, and today scattered on the territory of four states – Croatia (Novi Karlovac, Stara Gradiška, Slavonski Brod, Osijek), Serbia (Petrovaradin, Belgrade, Pančevo, Rača), Hungary (Szeged) and Romania (Timișoara, Arad, Alba Iulia). The theme of the research project was to research the architectural heritage of the above fortress-towns. Their further contextualization is planned through an international scientific conference.
Framework thematic units of the conference
Spatial development of fortress-towns
Fortifications
Public, military, religious and residential architecture
Public sculptures
Iconography of Eugene of Savoy
Eugene of Savoy and members of the military elite as art patrons
The scientific conference will be held in the Library of the Croatian Academy of Sciences and Arts in Zagreb. The official conference languages are Croatian, English, Italian and German. The length of a presentation is 20 minutes. The presentations will be divided into thematic sessions, and each session will be concluded with a discussion.
Please email applications (title, abstract of 250 words and short CV) to the address acuric@ipu.hr by 15 July 2023. Participants will be notified on the acceptance of the presentation by 31 July 2023.
Scientific Board of the Conference
Academician Željka Čorak, Institute of Art History
Katarina Horvat-Levaj, PhD, Institute of Art History
Univ.-Doz. Mag. Dr. Herbert Karner, Österreichische Akademie der Wissenschaften, Wien
Academician Vladimir Marković, Croatian Academy of Sciences and Arts
Milan Pelc, PhD, Institute of Art History
Academician Radoslav Tomić, Institute of Art History
Andrej Žmegač, PhD, Institute of Art History
Organisation Board
Ana Ćurić, MA Art History, Institute of Art History
Ivana Haničar Buljan, BArch, Institute of Art History
Margareta Turkalj Podmanicki, PhD, Associate Professor, Academy of Arts and Culture, Osijek
Iva Vidović, MA Art History, Institute of Art History
Vlasta Zajec, PhD, Institute of Art History
#EUGENHRZZ